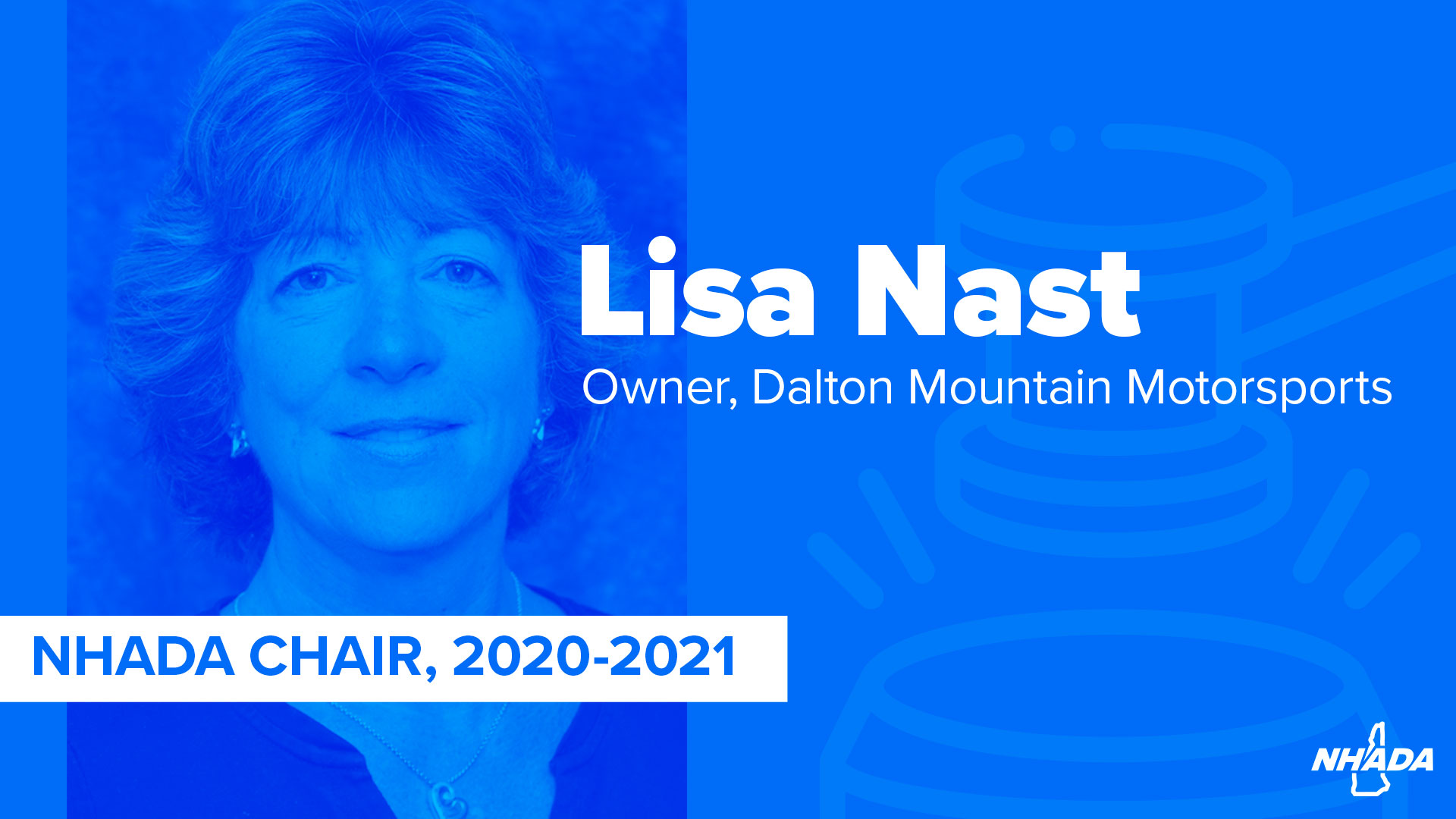 Concord, NH – The New Hampshire Automobile Dealers Association has a new leader for 2020. Lisa Nast was elected by her peers to take over as Chair of the Board of Directors of NHADA. Shawn Hanlon of AutoNorth Pre-owned Superstore and Plymouth Ford completed his year as chair and gifted the ceremonial gavel to Nast. A 13-year owner of Dalton Mountain Motorsports, the savvy and successful North Country business leader will help guide auto businesses around New Hampshire as the industry adjusts to a new normal of operations in the COVID-19 economy.
"Within these challenging times, New Hampshire auto businesses have unique new opportunities to serve customers in a different, yet effective way," says Lisa Nast, Chair of the Board of Directors for NHADA. "Through shared best practices, teamwork and a renewed spirit of cooperation, I believe the Association can weather these difficult times and be in a strong long-term position with the new relationships we are building with customers through new procedures and a collective need to care for one another's health. I am proud to be a part of this group of men and women."
Lisa is a "native" of NH born and raised in northern NH. Her career in the motorsports industry began in 2001. She is in her second term as a member of the NHADA board and also serves on the Executive Committee. Prior to working in the motorsports industry, Lisa worked for an auto dealership for 8 years. Before her auto/motorsports career, she was in commercial banking for 15 years.
Nast is joined by two new Directors, Ron Poirier, of Bob & Sons Automotive of Manchester, an Independent Repair/Service, and John Sawyer, Jr., of Portsmouth Ford. The following directors elected terms have ended: Don Goulet, Dyna Tune, an Independent Repair/Service located in Manchester, David Hammer, Contemporary Chrysler, Milford, and Miles Cook, of Rochester Motorsports (Immediate Past Chair). Hammer will remain on the board as the elected Treasurer.
In addition, Roger Groux, of Honda Barn in Stratham, was re-elected as Secretary, and the longtime leader of NHADA Pete McNamara was re-elected as President for another two-year term at the helm of day to day activities.
"Our Association is only as strong as its business owners, and we are blessed to have a breadth of experienced women and men who are doing great things in our industry," explains Pete McNamara, President of the NHADA. "We have significant challenges facing our members, but we will meet those challenges with innovative and creative solutions to problems we couldn't have foreseen just a few months ago. We are fortunate to have Lisa's combination of financial and automotive professional background because the type of difficulties that lie ahead requires someone who has signed paychecks on both sides of the ledger."
---
The New Hampshire Automobile Dealers Association (NHADA) is a statewide trade association, representing the interests of the motor vehicle retail industry. Membership consists of all of the new equipment, car, truck, motorcycle, snowmobiles, and on-road and off-road recreational vehicle dealers, as well as, independent dealers, motor vehicle service, auto body repair, and motor vehicle parts sales facilities.
---
---
Related Posts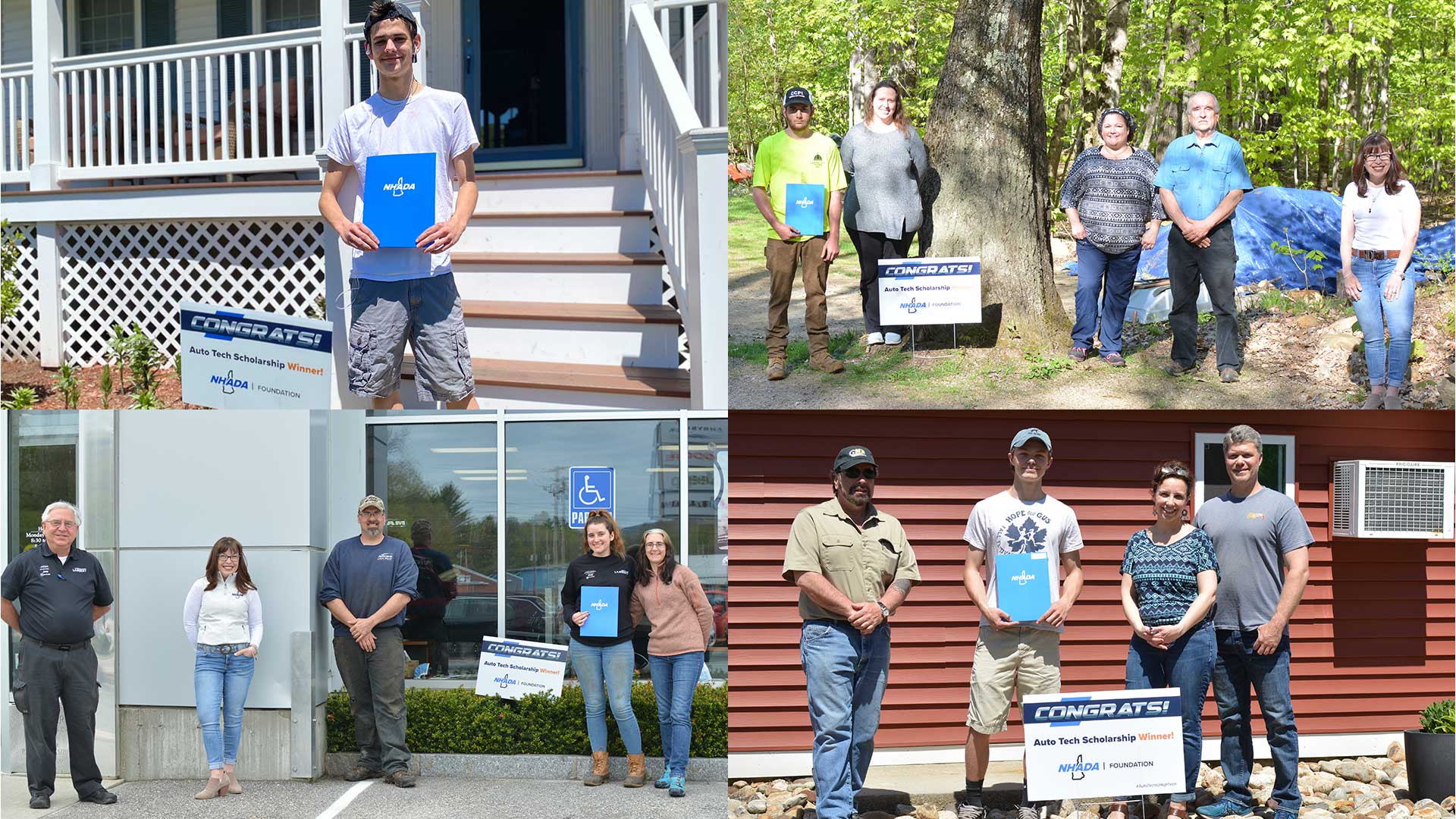 Press Release
Driving Our Future: NH Automobile Dealers Association Creatively Offers $75k In Student Scholarships
Concord, NH – As schools all around the state prepare to reopen for students in the fall, the New Hampshire Automobile Dealers...
By: Pete McNamara, President
May 26, 2020 9:50:33 AM | 1 min Read