Through promoting responsible riding year-round, not just during May, which is motorcycle safety awareness month, we can help keep the roadways in NH safe for all motor vehicle drivers. To ride/drive in a Smart, Mature, Aware, Respectful, and Trained manner will make us all better and responsible roadway users.
We have plenty of Ride S.M.A.R.T. posters, like the one you see below, available for free (click to download) for you to share around your business or events.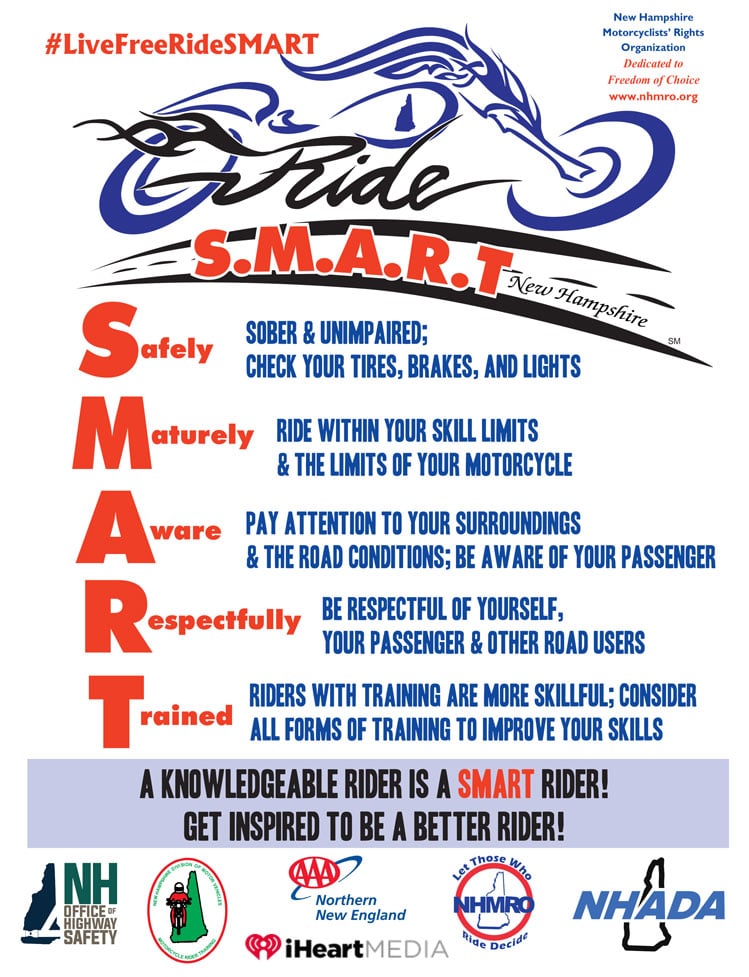 Please help us promote this great program and share in the benefits it will offer the motoring public. Let me know if you are interested and I will get them to you ASAP.
#LiveFreeRideSMART
A few tips to share with employees and visitors from the National Safety Council (NSC) during Motorcycle Safety Awareness month are:
Passenger car drivers must allow greater following distance behind a motorcycle.

Drivers also must show extra caution in intersections. Most crashes occur when a driver fails to see a motorcyclist and turns left in front of a motorcycle.

Drivers should never try to share a lane with a motorcycle. Always give a motorcycle the full lane width.

Motorcyclists should position their motorcycles to avoid a driver's blind spot.

Motorcyclists must use turn signals for every turn or lane change.