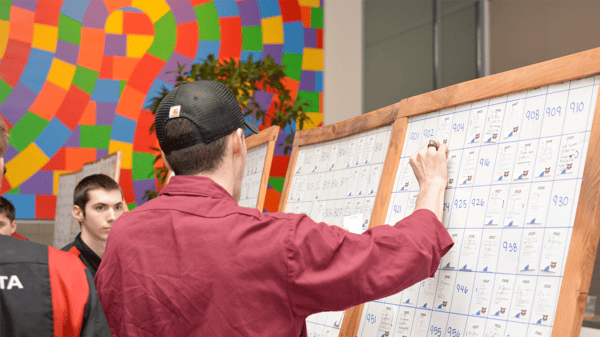 Join us on Saturday, January 30th for some much needed laughs with comedian Juston McKinney!  We will be broadcasting the Comedy Show and Big Raffle live for you to enjoy from the comfort of your own home at 7:00pm.
A total of 62 winning balls from the cage are set to be pulled throughout the evening. Each ball pulled is sponsored by one of our partners and has a prize attached to it. Tune in to see if your ticket number is a winner! Throughout the event enjoy commentary by NHADA President Pete McNamara, comedy with
comedian Juston McKinney and words from our students and supporters.
Although you will be tuning in this year from the comfort of your home, the cause remains the same. The Big Raffle & Silent Auction is our biggest fundraising event of the year. With your support, we are able to continue to provide students, the future workforce of the automotive industry, with scholarships and career and educational pathways to see them grow and succeed to have lasting careers in the industry. 

While the big winners will always be the students who, with your generous donations, will be awarded scholarships through the NHADA Foundation (we awarded $85,000 for 2020/21 school year!) one lucky person will also be awarded $25K!
Only 1,000 $100 tickets will be sold and the first prize may be used at any one of approximately 500 NHADA member or partner companies or for tuition at a NH state or community college.
"The real winners of the big raffle are the young men and women that are looking at joining the NH Auto Tech workforce," said Pete McNamara NHADA President. "This funds Scholarships, career days, competitions, equipment purchases and teacher training."
Each purchase of a $100 raffle ticket includes your entry into the Reverse Raffle. In addition to the top prize of $25,000, there will be numerous other prizes drawn throughout the evening. 
Can't wait for the fun to start?! The silent auction will go live virtually on January 12th, so make sure to bid early and bid often!
If you have any questions about the event, would like to donate a silent auction item or purchase a ticket, please email Kaleena Guzman or call 603-724-0291.