National Motorcyclist Fatalities And Fatality Rates, 2011-2020(1)

Unfortunately in NH we have recently seen the annual motorcycle fatality rate rise, and we have had 4 fatal crashes in the past 2 weeks.
Rider protection along with increased driver awareness is key to preventing fatal accidents. We believe that all riders should adhere to the RIDE S.M.A.R.T. NH principles developed by our friends at the New Hampshire Motorcyclist Rights Organization (NHMRO).
A KNOWLEDGEABLE RIDER IS A SMART RIDER! GET INSPIRED TO BE A BETTER RIDER!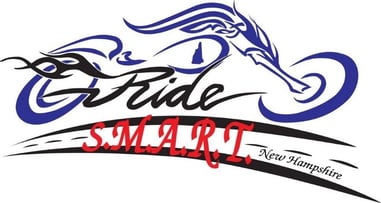 | | |
| --- | --- |
| Safely | Sober & unimpaired; check your tires, brakes, and lights. |
| Maturely | Ride within your skill limits & the limits of your motorcycle. |
| Aware | Pay attention to your surroundings & the road conditions; be aware of your passenger. |
| Respectfully | Be respectful of yourself, your passenger & other road users. |
| Trained | Riders with training are more skillful; consider all forms of training to improve your skills. |
We encourage all motorcyclists to enroll in a Motorcycle Safety Course. The courses are now being offered statewide through the NH DMV and their Motorcycle Rider Training program. The information and class offerings can be found here: https://www.nh.gov/safety/divisions/dmv/driver-licensing/motorcycle/training.htm
A few tips to share with employees and visitors from the National Safety Council (NSC) during Motorcycle Safety Awareness Month are:
Passenger car drivers must allow greater following distance behind a motorcycle.

Drivers also must show extra caution in intersections. Most crashes occur when a driver fails to see a motorcyclist and turns left in front of a motorcycle.

Drivers should never try to share a lane with a motorcycle. Always give a motorcycle the full lane width.

Motorcyclists should position their motorcycles to avoid a driver's blind spot.

Motorcyclists must use turn signals for every turn or lane change.



In a recent WMUR article motorcycle preparation & readiness were highlighted by Matty Laughlin, the general manager of Manchester Harley-Davidson. (2)
"Check the tires, not only for the proper inflation of the tire, but for tread depth, make sure there's no dry rotting. And if you have a bike with spokes, you're going to want to make sure those spokes are tensioned properly, or it could be a big safety concern," Laughlin said. "You're going to want to check the chassis, make sure that there are no issues with the chassis of the bike, and you're going to want to check the oils and fluids."
It's also important this time of year to pay attention to navigating sand, salt, leaves, and other road conditions you might encounter on a motorcycle.
During National Motorcycle Safety Awareness Month this May, let us all commit to making our roads safer for everyone by practicing responsible riding and driving habits and encouraging others to do the same. Ride safe, ride smart, and enjoy sharing the road!


1. Insurance Information Institute