National Motorcyclist Fatalities And Fatality Rates, 2009-20181

While motorcycle fatalities had been rising throughout the country, we have started to see the statistics plateau in the past few years. According to the New Hampshire State Office of Highway Safety, the state has noticed that motorcycle fatalities are on pace with the previous past two years.2
Rider protection along with increased driver awareness is key to preventing fatal accidents. We believe that all riders should adhere to the RIDE S.M.A.R.T. NH principles developed by our friends at the New Hampshire Motorcyclist Rights Organization (NHMRO).
A KNOWLEDGEABLE RIDER IS A SMART RIDER! GET INSPIRED TO BE A BETTER RIDER!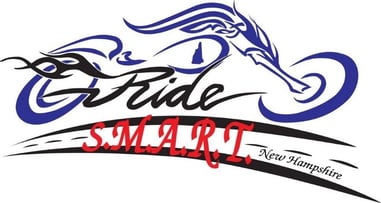 | | |
| --- | --- |
| Safely | Sober & unimpaired; check your tires, brakes, and lights. |
| Maturely | Ride within your skill limits & the limits of your motorcycle. |
| Aware | Pay attention to your surroundings & the road conditions; be aware of your passenger. |
| Respectfully | Be respectful of yourself, your passenger & other road users. |
| Trained | Riders with training are more skillful; consider all forms of training to improve your skills. |
We encourage all motorcyclists to enroll in a Motorcycle Safety Course. The courses are now being offered statewide through the NH DMV and their Motorcycle Rider Training program. The information and class offerings can be found here: https://www.nh.gov/safety/divisions/dmv/driver-licensing/motorcycle/training.htm
A few tips to share with employees and visitors from the National Safety Council (NSC) during Motorcycle Safety Awareness month are:
Passenger car drivers must allow greater following distance behind a motorcycle.

Drivers also must show extra caution in intersections. Most crashes occur when a driver fails to see a motorcyclist and turns left in front of a motorcycle.

Drivers should never try to share a lane with a motorcycle. Always give a motorcycle the full lane width.

Motorcyclists should position their motorcycles to avoid a driver's blind spot.

Motorcyclists must use turn signals for every turn or lane change.



1. Insurance Information Institute
2. WMUR.com