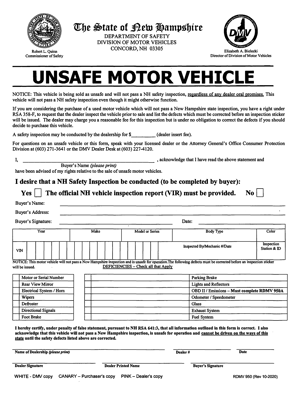 As you know this is a 3-part form obtained from the DMV and used when selling a vehicle that will not pass a NH safety inspection.
The Attorney General's Office proposed changes and worked with both NHADA and the DMV to updated the form to meet all of our needs.
The main changes are making the Unsafe Motor Vehicle title on the form more obvious as well as highlighting to the buyer whether or not they desire to have a safety inspection conducted.

The form also highlights that the vehicle may not be driven on the roadways in its present condition unless safety inspection items repairs are made. NHADA supported the form changes in an effort to provide absolute clarity to consumers and eliminate confusion when and why a vehicle is unsafe at the time of sale.
We encourage you to inspect vehicles as thoroughly as possible so that the customer is truly aware of the status of the vehicle they are purchasing and so that they and other roadway users are kept safe. We would also like to remind you that if you are selling a vehicle that has an OBD II system failure you must use the RDMV 950A form.
For questions on an unsafe sale issue or the form change contact me at dbennett@nhada.com or (800) 852-3372.