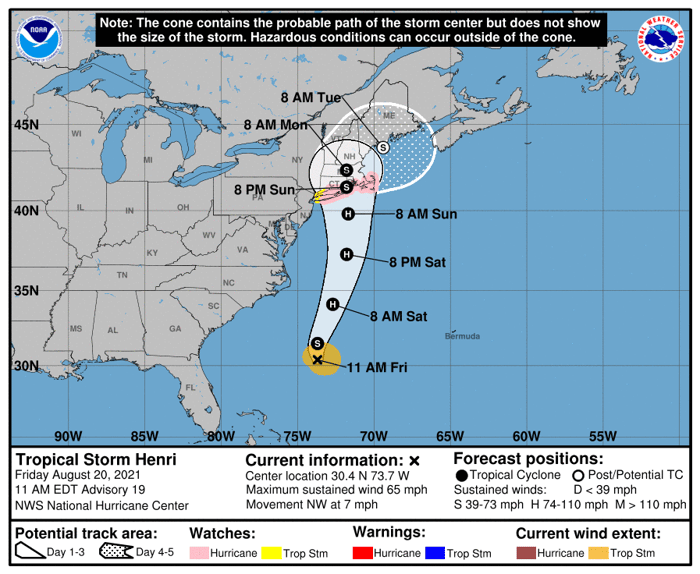 The current track for Tropical Storm Henri from the National Hurricane Center.
The East Coast should still expect dangerous rip currents and rough surf regardless of the storms path. Coastal regions of the Northeast and southern New England may experience tropical storm force winds beginning Saturday night. The center of Henri is expected to approach southern New England by Sunday morning. Be sure to check the
National Hurricane Center
,
ReadyNH
, and NHADA's blog for the latest forecast and potential impacts associated with Henri.
1
Hurricane Watch vs Hurricane Warning
Parts of Southern New England are under a Hurricane watch. Similar to Winter Storm watches and warnings, there is a difference between a Hurricane watch and Hurricane warning. According to the CDC:
2
A

hurricane watch

means hurricane conditions (sustained winds of 74 miles per hour [mph] or higher) are

possible

in a stated area. Experts announce hurricane watches 48 hours before they expect tropical-storm-force winds (sustained winds of 39 to 73 mph) to start.
A

hurricane warning

is more serious. It means hurricane-force winds are

expected

in a stated area. Experts issue these warnings 36 hours before tropical-storm-force winds are expected in the area to give people enough time to prepare for the storm.
Preparing for a Hurricane
Should the forecast change, please refer to these important hurricane preparedness tips from the CDC:3
Prepare for a hurricane:

Take basic steps now to ensure your safety should a storm hit.
Get a COVID-19 vaccine as soon as you can. COVID-19 vaccines help protect you from getting sick or severely ill with COVID-19 and may also help protect people around you.
Get emergency supplies

:

Stock your home and your car with supplies. Give yourself more time than usual to prepare your emergency food, water, and medicine supplies. Home delivery is the safest choice for buying disaster supplies; however, that may not be an option for everyone. If in-person shopping is your only choice, take steps to

protect your and others' health when running essential errands.
Make a plan

:

Create a family disaster plan.
Prepare to evacuate

:

Never ignore an evacuation order. Pay attention to local guidance about updated plans for evacuations and shelters, including shelters for your pets.
Protect older adults

:

Understand older adult health and medical concerns.
Protect your pets

:

Ensure your pet's safety before, during, and after a hurricane.
When you check on neighbors and friends, be sure to follow social distancing recommendations (staying at least 6 feet from others) and other CDC recommendations to protect yourself and others.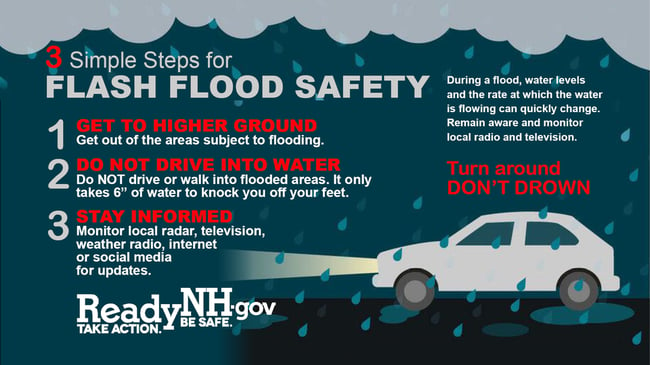 Tropical storms and hurricanes can bring heavy rain. Stay safe and follow the steps for hurricane safety from ReadyNH.
Staying Safe After a Hurricane
In addition to preparing for a hurricane, it's important to take steps to stay safe after a hurricane is over, for example:3
Avoid flooded areas: Take precautions before, during, and after a flood. Never drive through floodwater.
Prevent carbon monoxide (CO) poisoning after the storm: Ensure your CO detector has working batteries. Place generators outside at least 20 feet from any door, window, or vent.

Continue to follow

preventive actions to protect yourself and others from COVID-19.
Dealing with disasters can cause stress and strong emotions, particularly during the COVID-19 pandemic. It is natural to feel anxiety, grief, and worry. Coping with these feelings and getting help when you need it will help you, your family, and your community recover.
NHADA will be monitoring to progress of the storm and will notify its members of any important changes.
1: Tropical Storm Henri Updates (National Hurricane Center)
2: Hurricane Watch vs Hurricane Warning
3: Preparing for a hurricane or tropical storm (CDC)