This year, our golfers enjoyed 18 holes of leafy woodlands, streams, and the manicured greens at Pease Golf Course in Portsmouth, New Hampshire. New this year were the Precision Challenge and the Marshmallow Drive, where golfers tested their accuracy and their strength against a marshmallow. Challenge results listed below
Challenge Results
Precision Challenge: Undefeated

Marshmallow Drive: Joe Rando - AutoServ

Air Cannon:
Emily Gaudet - AutoServ


Jeff Corriveau - Key Auto

Putting Contest: Jim Schaffer - NorthEast Dealer Services


On-Course Contest Results
Hole-in-One: Undefeated
Closest-to-the Pin:
James Godfrey - Tyler Simms & St. Sauveur, CPAs
Richard Bellino - Toyota of Nashua


Marc Provencher - Bob & Sons Automotive

Longest Drive:
Chad Hopkins - Staples


Nick Sansone - Portsmouth Ford Lincoln Inc




Tournament Results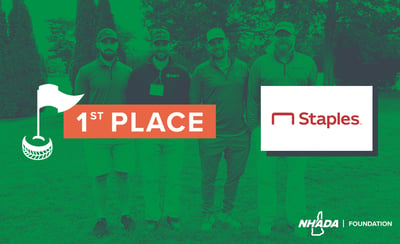 1st Place: Staples


Greg Hird, Shawn Hird, Chad Hopkins, Sam Guimond




2nd Place: Jewett Construction


Greg Stewart, Gregg Blair, Jeff Moynihan, Bret Cote




3rd Place: AutoFair Volkswagen


Nick Ayotte, Jason Clark, Frank Cisewski, Alec Medic




Proceeds from the golf tournament benefit the NHADA Foundation. These events are crucial in our workforce development initiative.
"Thank you to our sponsors, Association Partners and golfers for an amazing day," said Pete McNamara, NHADA President. "Our Education Foundation is stronger because of you."
NHADA again thanks our Association Partners and Golf Tournament Sponsors for their support. We look forward to another successful event next year!