On Saturday, April 17th NHADA, with the support of Lakes Region Community College, held the annual Automotive Competition at Nucar AutoMall of Tilton, NH. Fourteen students from five different CTE schools competed for a chance to win scholarships from the NHADA Education Foundation. While this was a smaller event than the typical competition, the energy was still there.
"We were impressed with the enthusiasm that the students brought to the competition this year", said NHADA President Pete McNamara, "NHADA is proud to create a platform where the students can showcase the skills and knowledge they have gained in their automotive programs."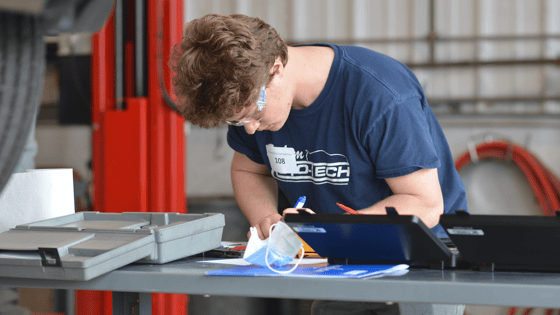 Kyle Genualdo of Salem CTE works on the Electronic Service Information station
The annual competition is a testament to the quality of education our state provides at both the high school and college level. There are programs throughout New Hampshire that can jumpstart your career as a technician which is seemingly becoming a more popular career path.
Evaluation
Kyle Ouellette of Salem CTE examines a NUCAR Kia at the Steering and Suspension station
Throughout the day students were challenged to showcase their skills at five testing stations in the service bay at Nucar AutoMall in Tilton. The competition was monitored by community college instructors and Nucar staff members. Students were tested in the following areas:
| | |
| --- | --- |
| Electrical Wiring, Harness Testing and Wire Repair | Electronic Service Information |
| | | |
| --- | --- | --- |
| Engine Repair | Steering and Suspension | Braking Systems |
Results
The scores have been tallied and we are excited to announce the results! The top three finishers all received scholarships for their performance.
| | |
| --- | --- |
| | Jacob Dubay focuses in during the competition. |
| | |
Congratulations to these students on their success! These scholarships are awarded to be used at one of the five community colleges in NH that offer automotive, heavy-duty/diesel, powersports, or collision programs.
---
NHADA would like to thank Shawn Hanlon and Jim Medeiros of Nucar AutoMall of Tilton for hosting the event as well as Jamie Decato of Lakes Region Community College for organizing it. The event would not be successful without the help of the following staff members and community college partners:
Forrest Powers – Lakes Region Community College
Dave Perkins – Lakes Region Community College
Bob Lott – Manchester Community College
Jason Felton – Nashua Community College
Adam Decato - Nucar AutoMall of Tilton
Troy Lachance – White Mountains Community College
Congratulations to all of the students who put on an excellent performance highlighting their skills and showing off the knowledge that they have worked so hard to learn!