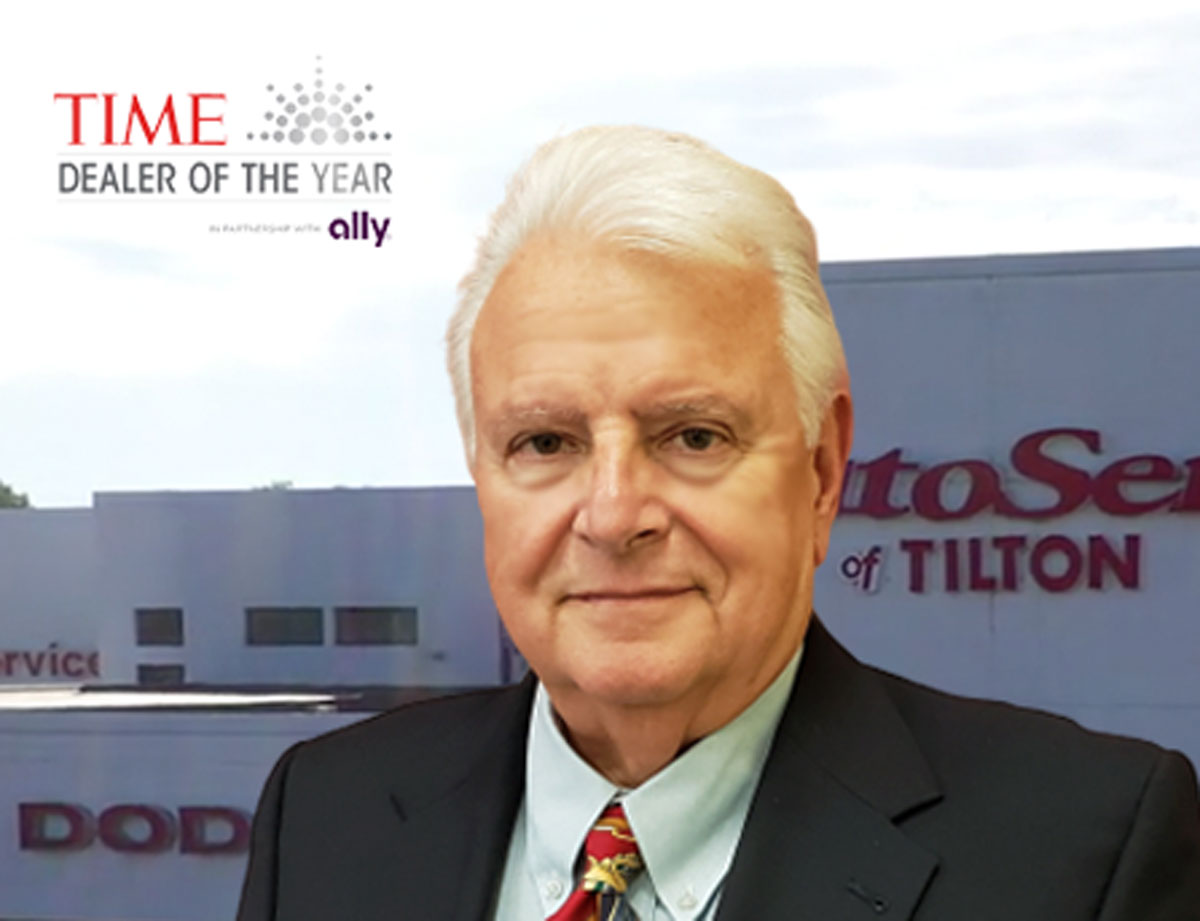 (New York, NY, October 21, 2019) – The nomination of Paul Gaudet, Sr., president of AutoServ, a Chrysler, Dodge, Ford, Jeep, Nissan, Ram and Volkswagen dealership in Tilton, New Hampshire, for the 2020 TIME Dealer of the Year award was announced by TIME.
Gaudet is one of a select group of 49 dealer nominees from across the country who will be honored at the 103rd annual National Automobile Dealers Association (NADA) Show in Las Vegas on February 15, 2020. The announcement of this year's annual award was made by Susanna Schrobsdorff, chief partnerships officer, TIME, and Doug Timmerman, president of Auto Finance for Ally Financial.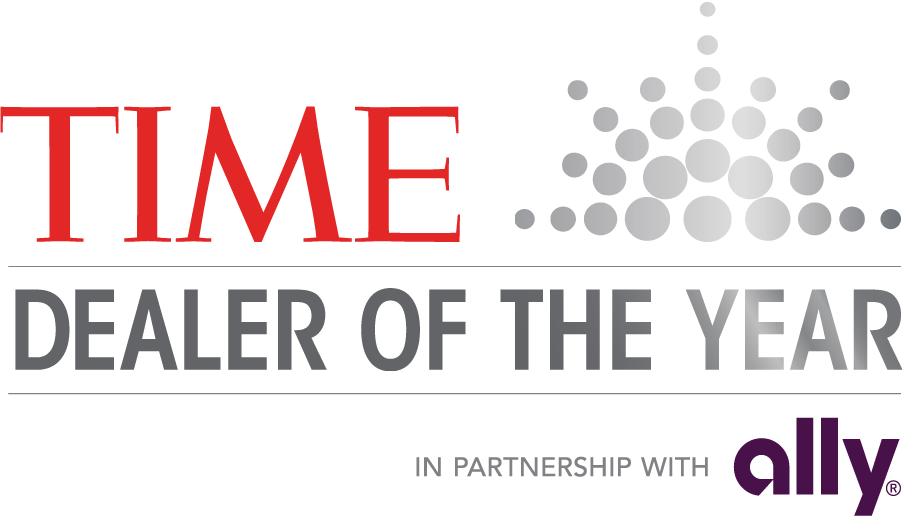 The TIME Dealer of the Year award is one of the automobile industry's most prestigious and highly coveted honors. Recipients are among the nation's most successful auto dealers who also demonstrate a long-standing commitment to community service. Gaudet, 74, was chosen to represent the New Hampshire Automobile Dealers Association in the national competition – one of only 49 auto dealers nominated for the 51st annual award from more than 16,000 nationwide.
"Our philosophy is simple: AutoServ is successful because we are a part of a community, not just an address," nominee Gaudet said. "Caring is infectious and it is conveyed to all through our excellent staff."
After attending Wentworth Institute of Technology in Boston, Massachusetts, Gaudet began his career in the auto industry at Nassar Ford in Lawrence, Massachusetts, where he started as a salesman in 1965. "My wife and I were expecting our first child and car sales seemed a bit easier than working as a construction laborer in a flat market," he said.
Gaudet rose quickly through the ranks and became general manager while helping the dealership grow to become a major Boston-metro Ford store. "When our three children were in high school and looking onward to college, my wife and I felt secure and we began to look for ways to give back," he said. "We opened our hearts and home to a
young foster child we had read about in our local paper and soon adopted her into our family."
His older son joined Gaudet at the dealership following college, and in 1990, he decided it was time to open his own store. "I cashed in my retirement and chased my dream," he said of the purchase of a Ford, Chrysler and Dodge store in Tilton. Today, the business has grown to include Jeep, Nissan, Ram and Volkswagen, plus AutoServ Kia and an Allstate insurance agency. AutoServ is truly a family enterprise that has recently grown to include two of his grandchildren, in addition to three of Gaudet's children, and a brother and daughter-in-law.
"Our success is attributable to our team," Gaudet said. "We employ roughly 200 people who proudly commit themselves to our growth and success every day. We arm them with the best in tools, training and technology to grow professionally, and we treat everyone with respect and encouragement."
The dealership itself is an amenity-rich oasis, featuring a café, fully equipped gym with a trainer for exercise classes and a lactation lounge. "We foster a culture of caring for each other and our surrounding communities," Gaudet said.
To that end, he was instrumental in establishing and funding a new location for the Boys & Girls Club of the Lakes Region, which was being evicted from its rented headquarters and moving to the basement of a vacant church. He rallied family, friends and neighbors to raise the funds to purchase and sustain a permanent home for the group in Laconia, New Hampshire.
"Our community has struggled with an epidemic opioid crisis leaving children victims in its wake," Gaudet said. "Our local Boys & Girls Club is described by many members as the only place they feel safe. We not only purchased a suitable home for the organization which it could own debt free, but we also built a $1.2 million endowment to ensure that it would remain the club's forever home."
Other groups he supports include Spaulding Youth Center (provides residential facility/services in Northfield, New Hampshire, for children with disabilities and special needs); Harbor Homes' Veterans FIRST (housing for homeless veterans); Belknap Mill (historic mill and education center); Lakes Region Mental Health Association (located in Laconia and Plymouth, New Hampshire); Belknap House (family cold-weather homeless shelter in Laconia); Camp Allen (camp in Bedford, New Hampshire, for children with physical and developmental challenges); Meals on Wheels; Make-A-Wish; CASA of New Hampshire (advocates for abused and neglected children) and many more.
"Personally, through the dealership and our family foundation, we have given away more than $1 million over the past five years to a myriad of worthy causes from combating social challenges like addiction and homelessness to children's charities, religious organizations, youth sports and service clubs," Gaudet said.
He has received numerous awards for his community work and added, "We are inspired most by the willingness of our team to follow through with our customers and to share their own time and success through community volunteerism."
Dealers are nominated by the executives of state and metro dealer associations around the country. The award is sponsored by TIME in association with Ally Financial, and in
cooperation with NADA. A panel of faculty members from the Tauber Institute for Global Operations at the University of Michigan will select one finalist from each of the four NADA regions and one national Dealer of the Year. Three finalists will receive an additional $5,000 for their favorite charities and the winner will receive an additional $10,000 to give to charity.
In its ninth year as exclusive sponsor, Ally will recognize dealer nominees and their community efforts by contributing $1,000 to each nominee's 501(c)3 charity of choice. Nominees will also be recognized on AllyDealerHeroes.com.
"The award applauds the incredible effort each of these dealers put into their businesses and their communities," said Doug Timmerman, President of Auto Finance at Ally. "They are influential business leaders and admired ambassadors for worthy causes. It's an honor for Ally to recognize their generosity and impact in cities and towns across America."
Gaudet was nominated for the TIME Dealer of the Year award by Peter McNamara, president of the New Hampshire Automobile Dealers Association. He and his wife, Brigid, have four children.
###
About TIME USA LLC
TIME is a global multimedia brand that reaches a combined audience of more than 100 million around the world. A trusted destination for reporting and insight on the people, places and issues that matter, TIME captures the events that shape our lives. TIME's major franchises include the TIME 100 Most Influential People, Person of the Year, Firsts, Best Inventions, Genius Companies, World's Greatest Places, and more. With 45 million digital visitors each month and 40 million social followers, TIME is one of the most trusted and recognized sources of news and information in the world.
About Ally Financial Inc. Ally Financial Inc. (NYSE: ALLY) is a leading digital financial-services company with $181.5 billion in assets as of September 30, 2019. As a customer-centric company with passionate customer service and innovative financial solutions, we are relentlessly focused on "Doing It Right" and being a trusted financial-services provider to our consumer, commercial, and corporate customers. We are one of the largest full-service automotive-finance operations in the country and offer a wide range of financial services and insurance products to automotive dealerships and consumers. Our award-winning online bank (Ally Bank, Member FDIC and Equal Housing Lender) offers mortgage-lending services and a variety of deposit and other banking products, including savings, money-market, and checking accounts, certificates of deposit (CDs), and individual retirement accounts (IRAs). Additionally, we offer securities-brokerage and investment-advisory services through Ally Invest. Our robust corporate finance business offers capital for equity sponsors and middle-market companies.
For more information and disclosures about Ally,
visit https://www.ally.com/#disclosures.
About the NADA Show
The annual NADA Show brings together more than 20,000 franchised dealers and their employees, industry leaders, manufacturers and exhibitors to learn about the latest auto industry tools, trends, products and technologies.
---
---