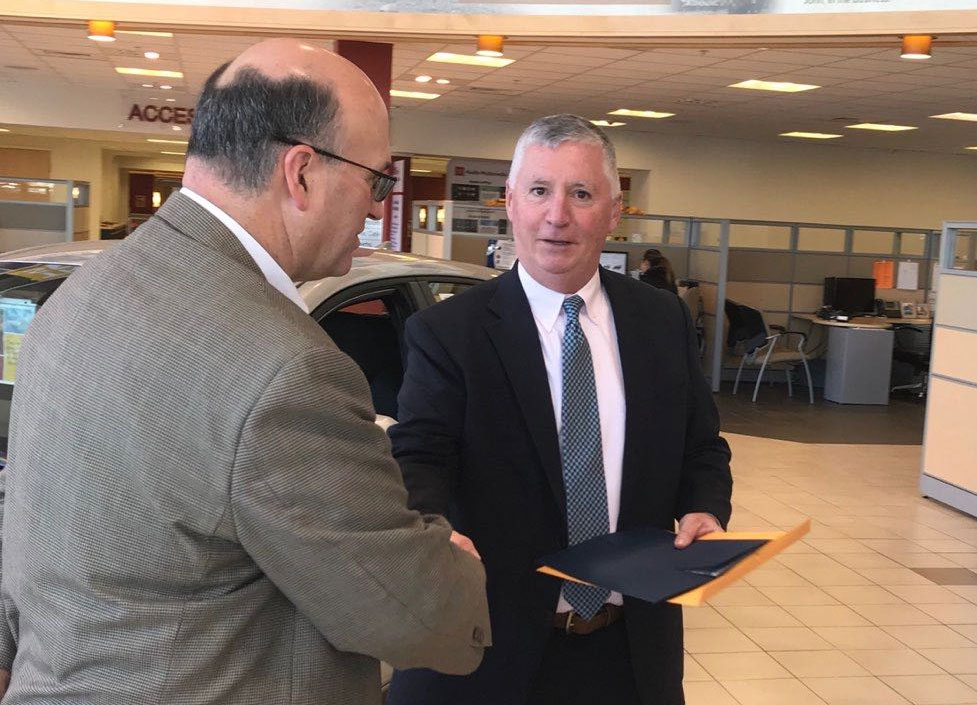 BOW, NH—Recently Senator Kevin Cavanaugh stopped by Grappone Toyota to present them with a Senate Resolution honoring their 50 years in business.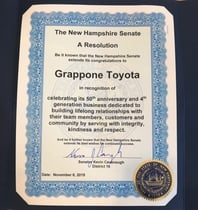 Grappone Toyota opened its doors in 1969 under the leadership of John Grappone and it continues to be operated by the fourth generation of Grappones in Bow today. The family has experienced many changes and challenges in the half century that it has served the state of NH, from oil embargoes in the '70s to natural disasters to economic downturns. The team today works in a "continuous improvement" environment and is ready to serve a variety of guest needs (solar-powered electric charging stations, a hassle free sales process, express service, online purchasing, and a massive parts distribution presence in New England top the list).

Amanda Grappone Osmer, fourth generation steward of the family business, believes deeply in The Toyota Way which calls for a system that is designed around the person doing the work. In this way the person doing the work is honored. "After studying Toyota's methodology for several years it became clear that what they've achieved in manufacturing has just as many positive outcomes in the retail side of the business," she says. "I feel a strong kinship with Toyota's business practices and my family is very proud to be able to partner with them."

Grappone Toyota was New England's first LEED certified Toyota facility, a commitment that illustrates the company's dedication not only to its team and guests, but also to its community. "We look forward to seeing where our Toyota partnership takes us in the coming years," says Osmer.
---
---