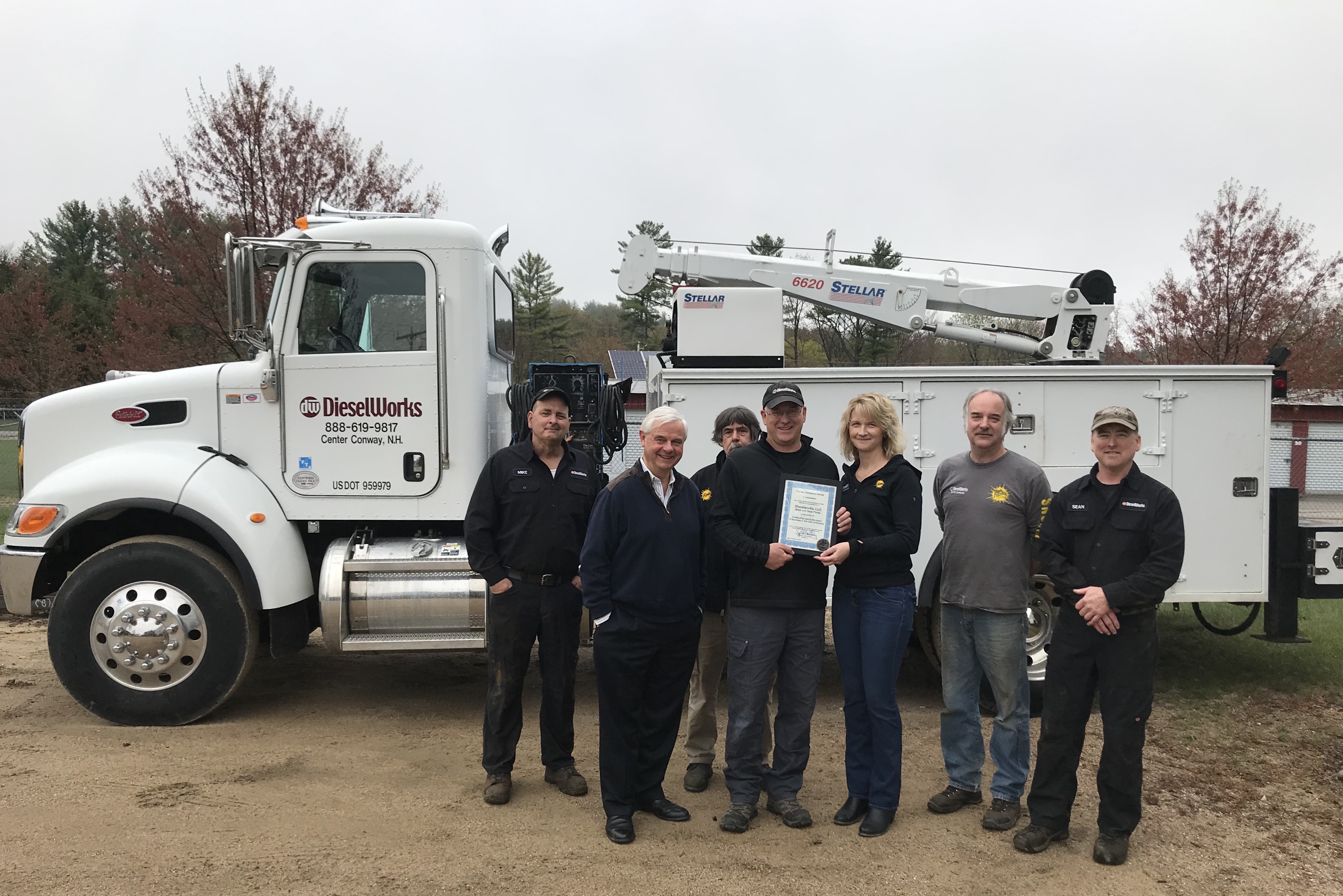 CENTER CONWAY, NH — Last Friday, DieselWorks, LLC celebrated 25 years in business; Senator Jeb Bradley presented a Senate Resolution.

When the need for a mobile diesel repair service that serviced all makes of diesel equipment came up, Mark and Heidi Forde jumped at the opportunity. Before DieselWorks was started, Mark worked at a John Deere dealer. When the dealership lost their contract with John Deere, Mark and Heidi took a chance on a new business. In 1993, DieselWorks was born.
Mark grew up in Dover, NH. Shortly after starting his college education at SUNY Cobleskill focusing on Dairy, Mark realized that he was more interested in diesel engines. He finished college with a Bachelor of Technology degree in Diesel Technology. Heidi met Mark during college, where she obtained a Bachelor of Science degree in Business Administration from Rochester Institute of Technology. Mark's knowledge of diesel engines combined with Heidi's business experience made the choice to start their own business an easy one.

When they were just starting out in 1993, DieselWorks was strictly a mobile repair service. They have since expanded, and now provide heavy equipment and truck repair and parts.
Customers are drawn to DieselWorks because of their level of expertise and technical ability. Customer satisfaction is something they care deeply about. They remain up-to-date on diesel parts through continuous education provided by manufacturers such as John Deere, Isuzu, Kohler, International and Fisher. DieselWorks has the technology, skill-set and knowledge to stay current, but also retain past information. Their supplier contacts have grown tremendously, giving them the resources to find parts that no one else can. Because of that, DieselWorks was selected to solve an engine issue in Haiti in 2017.
When asked what their favorite part of being an NHADA member is, Heidi Forde replied, "NHADA helps keep us in the know about current legislation, keeps our costs down in relation to Workers' Comp and Health Care, and genuinely cares about its Members".
---
---