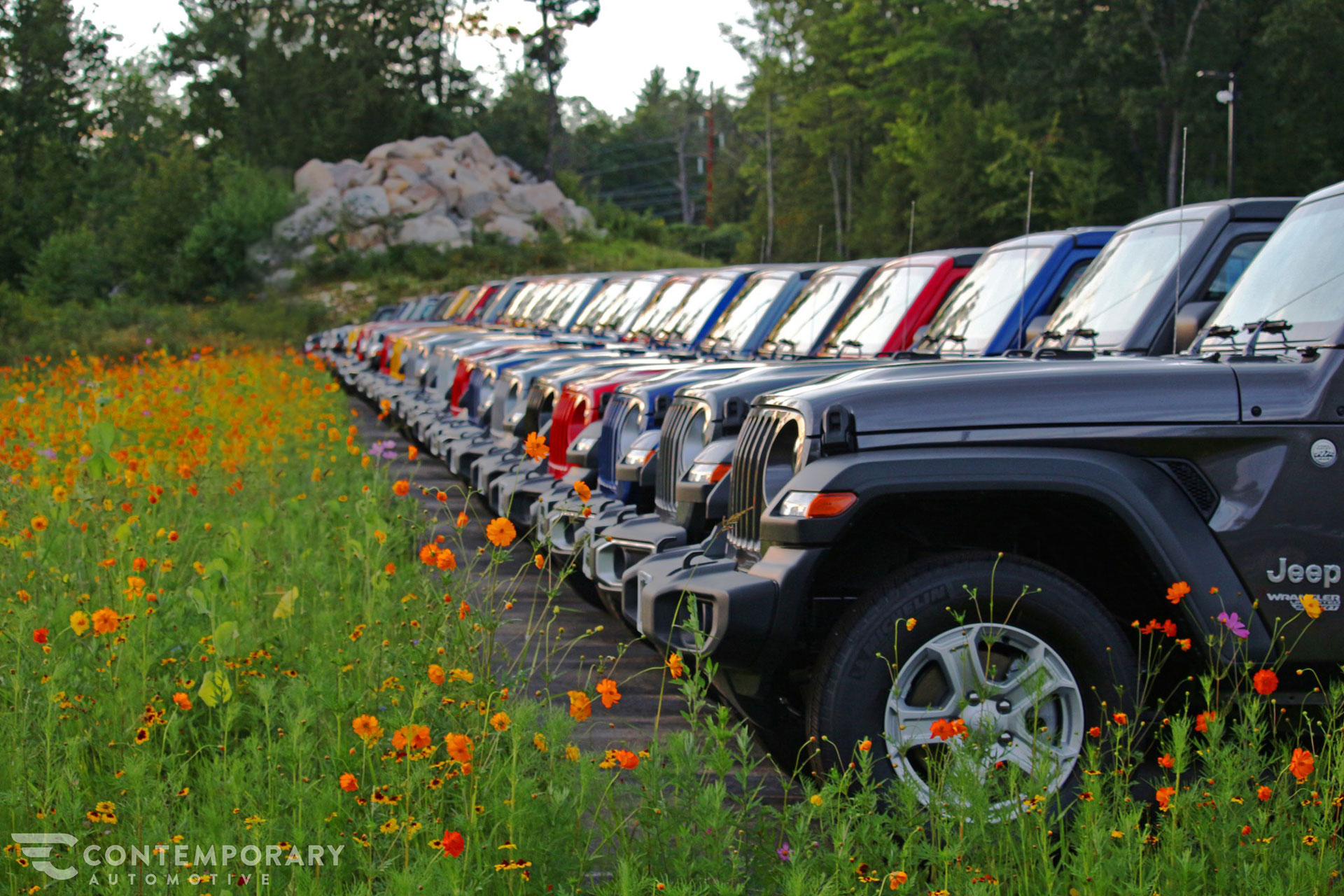 NHADA Member Contemporary Automotive practices environmental stewardship in more than a few different ways—in case you didn't know, the dealership's roof features a 450 panel photovoltaic solar array. Since the array was commissioned in November of 2017, it has saved over 389,670 lbs. of CO2 emissions equivalent to the amount of CO2 sequestered by 9,814 trees.
Most recently, Contemporary Automotive has integrated a field of wildflowers (pictured above) into their parking area. The wildflower bed, loaded with pollinators, will only become more full next year, and beyond.
The solar array and the wildflower bed are only a couple of examples of how the dealership commits to "going green", check out a full list below:
1. Used Motor Oil is stored on site and heats the entire building
4,330 gallons storage capacity
Double Wall storage tanks, High-level alarms, overflow shut off, and interstitial monitors all designed to prevent spills
Floor drains removed from repair shop floors to prevent ground water contamination
Repair shop floor is pitched to the center forming a basin w/ effective capacity of approximately 2,000 gallons
Heat is distributed to over 70% of the building via in-slab radiant heat generated by the burning of used motor oil
2. Reduced water consumption both inside and outside the building
Low flow plumbing fixtures installed throughout the building
Native, drought tolerant plants used in exterior planning areas
No irrigation system installed
3. Stormwater runoff managed using Bio-retention Rain Gardens allowing stormwater to be absorbed in the ground.
4. Energy Efficient Building Envelope
LED Lighting installed inside and outside the building. All interior lights are LED, all exterior lights are LED
R38 Insulation used for the roof, this exceeds the energy code required R20 insulation
White rubber roof installed to deflect heat from the sun
2" under-slab hard foam insulation installed in over 70% of the building
5 Large destratification fans installed in the showroom and repair shop
Reflective exterior glass reduces the amount of heat absorbed through the glass
3" insulated metal panels form the building exterior

5. Solar Powered EV Charging Stations – 2 Solar Powered EV Level 2 Charging Stations installed. 1 EV station is available for public access 24/7, there is no cost to the consumer for the use of the EV charging station.

6. Reduced landfill impact and paper consumption
High speed electric hand dryers installed in all Rest Rooms to reduce paper and energy consumption
Single Stream Recycling program throughout the building
Water bubbler with water bottle refill to reduce plastic bottles in the landfill
Ceramic coffee cups, dishes, and glassware to reduce use of paper goods
Recyclable coffee pods
7. Repurposed furniture used where applicable in many office spaces

8. New energy efficient shop equipment installed throughout the Repair Shop

9. Currently the largest Solar-powered auto dealership in NH
450 Panel Photovoltaic Solar Array installed on the roof –

Approximately 150,000 kWH annual production capacity

Since the array was commissioned in November 2017, it has saved over 389,670 lbs. of CO2 emissions equivalent to the amount of CO2 sequestered by 9,814 trees
---
---